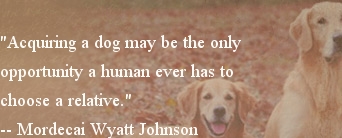 We are a family operation and hobby breeders.  We are not a puppy mill and do not sell to brokers or pet shops.  We are very small with perhaps one to two litters per year.  The most important aspect of our passion to breed quality dogs is that they become part of a loving family.  With that in mind we breed for soundness, intelligence, beauty and good minds. 

We raise them in a clean, beautiful environment, with daily handling and socialization with kids and other animals and the aspects of every day life such as vacumes and television and lawnmowers.  They are not raised in a kennel without human interaction.  All pups have dews removed and come with first shots, puppy packet and AKC registration.  

Please contact us with questions about any aspect of our business. We're always happy to hear from fellow dog lovers.