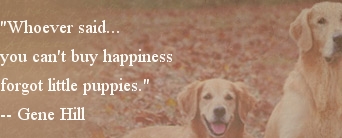 We have been breeding and raising beautiful English Labradors since 2005, as a mother and daughter operation.  Our dogs are AKC registered and bred for genetic soundness and disposition.  We love the blocky build and mellow disposition of these dogs and therefore we concentrate on a breeding program for the English Labradors with champion pedigrees.  

Our pups are bred for excellent temperment, willingness and trainability.  They can be used for multiple disciplines such as show, hunt, obedience and mostly importantly a lovable family dog.  The Labrador Retreiver is America's favorite dog and with good reason!!  For more information on English vs American go to www.thelabradorclub.com and also check out www.akc.org/breeds/labrador_retreiver/ 
Please explore this site to learn more. Call or email us to learn more about our breeding and referral services. Thank you for visiting us. We look forward to hearing from you!

Or call 1.800.474.7044.  Use our code when ordering 34833.